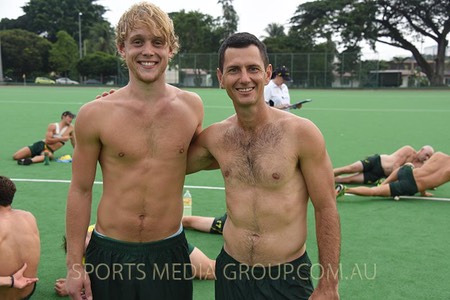 Results day 1
Australia 7 Canada 0              India 2 Korea 2        New Zealand 4 Malaysia 2
Today, World #1 Australia take on Canada, the lowest ranked team in the tournament. Jamie Dwyer becomes the most capped player in Australian history on games 322 passing Jay Staceys 321 games. tim Cross above with Jamie makes his debut. Both players scored today in a 7-0 haul against Canada. Canada played well for the first half and well into the second half but the sustained pressure from the World #1 paid results in the end.
Game 2. Korea face off against India. India recently appointed coach Paul Van Ass as the head coach. Korea have several new younger players in the side.
Game 3. Local team Malaysia meet The mighty Black Sticks (New Zealand)
Malaysia traditionally play well at home although they are in a change over period at the moment. Tai Beng Hai is working with consultant coach Niel Hawgood. Rumour has it that Niel is actually already running the side but this has not been officially announced yet.