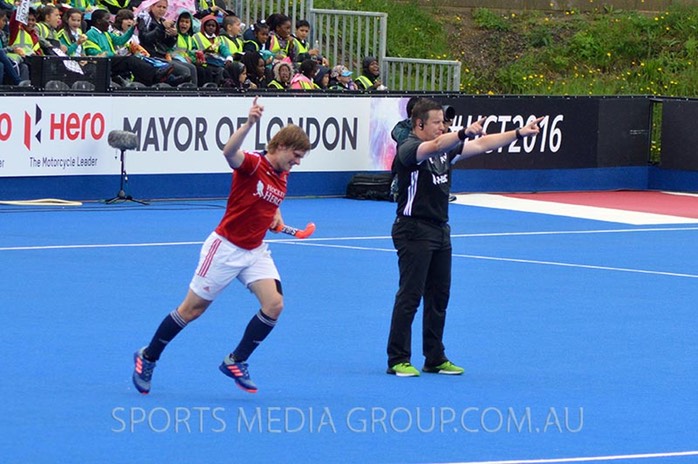 Mens matches today are Korea v GB, Germany v Australia and Belgium v India
 Hero Hockey Champions Trophy 2016: World champions Australia take control on Day 3 • Kookaburras fight back from two goals down to beat Olympic champions Germany 
Australia top the standings after three days of competition 

Great Britain and Belgium claim first wins of their respective campaigns

13 June 2016: World champions Australia bounced back from a two-goal deficit to defeat Olympic champions and Champions Trophy holders Germany in one of three high quality clashes on day three at the men's Hero Hockey Champions Trophy 2016 in London.
The result put the Kookaburras firmly in control of their own destiny, moving them three points clear at the top of the league table with all six competing teams having played three matches each.
It was also a good day for Great Britain and Belgium, sides that recorded their first victories of the competition against Korea and India respectively. Great Britain, Belgium and India all sit on four points, with GB currently holding that crucial second place position courtesy of a superior goal difference over their rivals.
Match 7: Korea 1, Great Britain 4
Great Britain delighted the home fans by scoring a goal in each quarter to overpower Korea in the opening match of day three. David Condon scored twice for GB to breathe new life into their title challenge, moving them onto four points maintain hopes of a place in the competition final.
It was a milestone match for Great Britain's Henry Weir, who was victorious in his 100th senior international match. "It feels weird, to be honest. It doesn't feel like I've started that many games", said Weir after the match. "Now I feel a lot more confident in my ability and to get 100, it only seems like yesterday since I started playing for Great Britain so it really is weird!"
Match 8: Germany 3, Australia 4
World champions Australia bounced back from a two-goal deficit to defeat Olympic champions and Champions Trophy holders Germany in a pulsating second match. The result means that Australia - who took victory thanks to a winning goal from Aran Zelewski - move onto seven points and remain unbeaten after three matches, giving them an excellent chance of reaching Friday's competition final. Germany remain on two points and will need a strong finish to the round-robin phase if they are to successfully defend their Champions Trophy title.
"I'm really happy with the performance", said Australia's Simon Orchard, who was playing his 200th senior international for the Kookaburras. "We showed a bit of grit, determination and character, which sometimes with a younger group of players can be in question. It was really pleasing to go down 2-0 early with things not going exactly our way and fight back. Its just reward for a really good effort in the rain."
Match 9:  Belgium 2, India 1
Jerome Truyens scored the winner as Belgium claimed their first victory of the Hero Hockey Champions Trophy 2016, edging past India. The result moved Belgium onto four points, reigniting their own title ambitions at the Lee Valley Hockey and Tennis Centre Olympic legacy facility. 
"It feels good to win", said Belgian captain John-John Dohmen after the match. It came a little bit later in the tournament than we wanted but now we have it. It was not our best game, but we did it with a lot of fight and that is a good feeling. When you fight all game in a really close match in difficult conditions with the rain it is a good feeling to win."