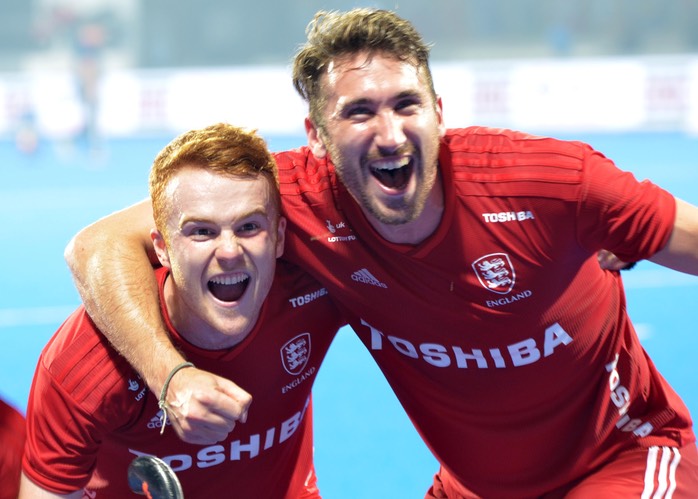 Photo: Avtar Bhurji. sportsmediagroup.com.au
• England and China are qualified for the cross-over matches
• Ireland are eliminated
• Pool B winners and reigning world champions Australia make light work of China
Bhubaneswar, India: In the first game of the day, Australia, already ensured of the top position in the pool before the game, heavily defeated China (11-0). However, as England defeated Ireland (4-2), both England and China will progress to the cross-overs. England will play New Zealand, while China will take on France on Monday 10 December.
Reigning world champions Australia (FIH Hero World Ranking: 1) were already confirmed as the winners of Pool B following their impressive 3-0 victory over England on Tuesday (4 December), but that did not stop them wanting to maintain their winning streak in today's meeting against a China (WR:17) team that were unbeaten coming into the match.
The Kookaburras were at their scintillating best in the first quarter to open up a 2-0 lead, with Blake Govers finding the roof of the China net from a penalty corner before a tap-in from Aran Zelewski doubled the advantage. Four Australian goals arrived in the fourth quarter, with Tom Craig, a second for Govers, Jeremy Hayward and a fine team goal finished off by the exceptional Jake Whetton, who showed incredible reactions to dive in and guide the ball home from close range. 
At 6-0, the Australians could have been forgiven for easing off in the two remaining quarters, but it not something any Kookaburras side could ever be accused of. A further five goals flew into the China net, with Odisha Player of the Match Blake Govers completing his hat-trick alongside efforts from Tim Brand (2), Dylan Wotherspoon and Flynn Ogilvie on target as Australia made it three wins from three matches. 
The boys were having a lot of fun out there, a lot of goals were scored so I guess we were in the groove", said Australia's Matthew Swann after the match. "There were a lot of selfless acts out there, when guys could have taken the shot themselves but laid it off to a guy who was in a better spot, and it is hard [for China] to protect the whole goal."
The second game of the day saw Ireland (WR:10) play England (WR:7) with both teams having one point each at the start of the game. China's heavy defeat meant that both Ireland and England only needed to draw in order to progress through to the knock-out stages, as their respective goal differences were now superior to the team from Asia.
English player David Condon opened the scoring in the last minute of the first quarter. This followed two scoring attempts from Liam Ansell and Mark Gleghorne, both off target. At the 25th minute, England were very close to doubling their advantage as Ian Sloan missed a great opportunity with a hit just past the post.
The start of the second half was full of excitement. Ireland had to put pressure on their  opponents to try and find an equalizer to ensure a place in the next round. They managed to do so in the 35th minute through Chris Cargo. However, two minutes later, Liam Ansell gave the lead again to England thanks to a fantastic hit into the roof of the net. This was not enough to discourage the Green Machine who, just a few seconds later, equalized again with a beautiful drag-flick from Shane O'Donoghue from a penalty-corner. But England went immediately on the attack again and scored a third goal only one minute later with a superb deflection from James Gall. Ireland nearly equalized again seconds before the end of the third quarter but Michael Darling missed the target. In the last minute of the game, England converted a penalty-corner for their fourth goal by Mark Gleghorne. That meant that England qualified for the cross-overs while Ireland were eliminated.
England's Luke Taylor said: "Today we took our chances. That really helped us and that will give us confidence going forward. We're not going to worry about anyone else. We're going to go out there and play our game and do the best we can, really."
On Saturday 8th December, the final matches in Pool C will take place, with Belgium (WR:3) facing South Africa (WR:15) at 1700 IST (UTS+5:30) before home favourites India (WR:5) take on Canada (WR:11) at 1900.
India are currently top of Pool C thanks to a marginally superior goal difference over second placed Belgium, with Canada holding onto third place ahead of South Africa, again on goal difference. The pool winner will earn a direct ticket to the quarter finals, while the teams that finish second and third will go into the cross-over play-offs. The team that finishes fourth will be eliminated from the competition.
While South Africa captain Tim Drummond expects a strong challenge from the Belgians, he feels his team are improving and will be determined to show their own qualities. "We were disappointed did not get the win against Canada after a much-improved overall team performance", said Drummond. "We created many good scoring opportunities but unfortunately we were not clinical with our chances. Our game against Belgium is one which we will be coming out all guns blazing to get a result. We respect the Belgians but we are going to play with complete belief in our abilities to make sure we do our country proud! Overall I feel we have played some high quality hockey in patches but have not been consistent enough and taken our chances. Against Belgium we will be looking to improve in both aspects. I am confident that if we execute our game plan then we will give us every chance of achieving our goals for the game."
Looking ahead to his team's match against host nation India, Canada Head Coach Paul Bundy said: "We have yet to show our true potential in the first two pool games. It's important for us to remain positive and competitive as we enter our final pool match against India. Over the last couple years we have been in a similar crossroads with India [Rio 2016 Olympic Games / Hockey World League Semi-Final] and come away with results. We will draw on those experiences, as we know that all the pressure is on India as the host country and team looking to top the pool."
The Odisha Hockey Men's World Cup Bhubaneswar 2018 takes place between 28 November and 16 December. The Men's World Cup is played every four years. For all information regarding the Odisha Hockey Men's World Cup Bhubaneswar 2018, including the full schedule, teams, news and more, click here.

Odisha Hockey Men's World Cup Bhubaneswar 2018
Day 10 Results – 7 December 2018: Pool B
Australia 11, China 0
Odisha Player of the Match: Blake Govers (AUS)
Ireland 2, England 4
Odisha Player of the Match: Liam Ansell (ENG)
Final Standings – Pool B
1: Australia (Qualified for quarter-finals)
2: England (Qualified for cross-over play-offs)
3: China (Qualified for cross-over play-offs)
4: Ireland (Eliminated)
Classification phase
The cross-over matches will be as follows, although not necessarily played in this order.
10 December 2018Match 2*: England (2nd Pool B) v New Zealand (3rd Pool A) – 16:45 IST
Match 1*: France (2nd Pool A) v China (3rd Pool B) – 1900 IST
*Matches switched for broadcast purposes
11 December 2018Match 3: 2nd Pool C v 3rd Pool D
Match 4: 2nd Pool D v 3rd Pool C
The winners of these matches will play in the quarter-finals, with the losing teams being eliminated. The quarter-finals will be as follows, although not necessarily played in this order.
12 December 2018Match 5: Argentina (1st Pool A) v Winner Match 2
Match 6: 1st Pool D v Winner Match 3
13 December 2018Match 7: Australia (1st Pool B) v Winner Match 1
Match 8: 1st Pool C v Winner Match 4
The winners of these matches will qualify for the semi-finals, with the losing teams being eliminated. The semi-finals will be as follows, although not necessarily played in this order.
15 December 2018
Winner Match 5 v Winner Match 6
Winner Match 7 v Winner Match 8
The winners of these matches will play for 1st and 2nd places (the final) and the losers will play for 3rd and 4th places. These matches will take place on Sunday 16 December 2018. The score at the end of the regulation time of any match will be registered by the FIH as the result of the match. If at the end of regulation time the result is a draw, in order to establish an outright winner of a classification match for the purpose of the competition, a shoot-out will be played to establish the winner.