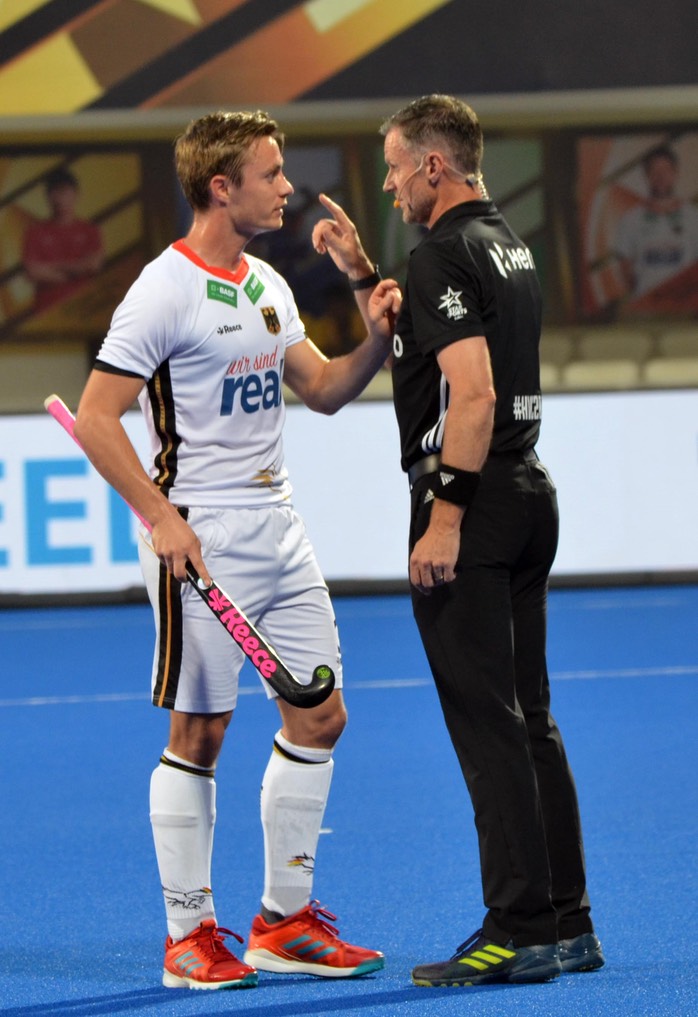 Photo Avtar Bhurji sportsmediagroup.com.au
Netherlands break Indian hearts at Odisha Hockey Men's World Cup Bhubaneswar 2018 

Van der Weerden strike give Netherlands a 2-1 quarter-final triumph over host nation

Dutch will meet reigning world champions Australia in the semi-finals

Belgium defeat Germany to reach first ever World Cup semi-final where they play England
Bhubaneswar, India: The line-up for the semi-finals of the Odisha Hockey Men's World Cup Bhubaneswar 2018 has been revealed following quarter-final victories for Belgium and Netherlands on Thursday (13 December).
Belgium's Red Lions claimed a hard-earned 2-1 triumph over Germany to secure a first World Cup semi-final appearance in their history. Their opponents in Saturday's final four meeting will be England, who defeated Olympic champions Argentina on Wednesday. The Netherlands completed the semi-final line-up by breaking the hearts of host nation India, with the Dutch battling to a 2-1 success over the home favourites to keep alive their hopes of World Cup glory. The Netherlands will now face reigning champions Australia in their semi-final, a re-match of the gold medal match at the 2014 World Cup in The Hague.
The quarter-final match between Pool D winners Germany (FIH Hero World Ranking: 6) and Belgium (WR:3) – 5-0 winners against Pakistan in the cross-overs – was fascinating from start to finish, with both teams showing attacking intent throughout. Germany were the first team to make a mark on the scoreboard a minute before the end of the first quarter through midfielder Dieter Linnekogel, who drilled a low, powerful shot through the legs of Vincent Vanasch after being expertly found by Tom Grambusch's searching pass from the right.
The Red Lions pulled level three minutes into the second period, with Alexander Hendrickx scoring his fifth goal of the competition with a perfectly executed penalty corner drag-flick. It was no more than Belgium deserved, who were thwarted on numerous occasions thanks to some terrific goalkeeping from Germany's Tobias Walter.
The high-paced action continued throughout the third and fourth quarters, with the defensive lines of both teams excelling before Belgium made what proved to be the decisive breakthrough ten minutes from the end. Shot-stopper Walter produced another fine save to deny Belgium captain Thomas Briels, but could do little about the follow-up, with Tom Boon brilliantly spinning to slide the ball under the outstretched leg of the Germany goalkeeper.
Die Honamas went for broke in the final stages, replacing Walter with an outfield player in an effort to ramp up the pressure on their European rivals. However, Belgium's defensive line – marshalled by Odisha Player of the Match Arthur Van Doren – were simply superb, running down the clock to put Belgium into the World Cup semi-finals for the first time in their history.
Speaking after the match, Belgium's Simon Gougnard was understandably thrilled about the result, but indicated that the team's focus had already switched to Saturday's semi-final against England. "We had to fight really hard", said Gougnard. "We are really happy but now we have to refocus and reboot and we're looking forward to play the next game against England. The English team has some really quality players on the ball. A really physical team so we're going to have to bring our 'A' game if we want to be able to contest with them. We will have to analyse them on video and come back with a really good plan if we want to win."
With three of the four semi-final places decided, the final berth was to be taken by the winner of what proved to be a thrilling encounter between host nation India (WR:5) and Netherlands (WR:4) in front of a huge crowd responsible for creating a deafening noise and an incredible atmosphere.
Dutch ace Jeroen Hertzberger rattled the side of the India goal early in the contest, but it was the home favourites who were first to register when Akashdeep Singh showed his renowned finishing abilities to fire into the roof of the Netherlands net following Harmanpreet Singh's saved penalty corner effort. The European champions restored parity with two seconds of the period remaining thanks to Thierry Brinkman's brilliant touch in the circle, getting just enough on Mirco Pruijser's hopeful pass to guide the ball past the despairing dive of goalkeeper PR Sreejesh. 
The two teams could not be separated in the second and third quarters, although both teams had their chances. Mink van der Weerden saw a string of penalty corner opportunities wasted, while Akashdeep Singh fired high over the Dutch goal with a backhand strike.
When the Netherlands had a goal ruled out by a smart Indian video referral early in the fourth quarter, it seemed that it was not going to be their day. However, a poor tackle from Chinglensana Kangujam outside of the Indian circle resulted in a penalty corner, and the Dutch made no mistake from the opportunity as Mink van der Weerden slammed a low effort into the net. 
India's hopes of getting back into the match were reduced when Amit Rohidas was given a ten-minute yellow card suspension for a foul on Mirco Pruijser. Despite that hinderance, India rallied and forced a fine save from Netherlands goalkeeper Pirmin Blaak, who brilliantly kicked clear a blistering backhand strike from the outstanding Harmanpreet. While the Dutch held on for their 2-1 victory, India's 43-year wait for a World Cup semi-final appearance will continue for at least another four years. It was a painful end for the young team coached by Harendra Singh, but they have provided plenty of evidence at this event that the future of Indian hockey is very bright indeed.
Speaking after the match, Netherlands match winner Mink van der Weerden said: "It's been an exciting game to look at, I guess. It's been going up and down. We didn't get the control we really wanted, I think. It's hard playing India. They were really creative and fast and sometimes a bit unpredictable, which is one of their strengths. But I think we did well. It's been a pleasure to be on the field. The crowd was crazy. It's been impressive and it's been a lot of fun playing this game."
Looking ahead to the semi-final meeting with Australia, Van der Weerden said: "Australia and the Netherlands are two different teams from four years ago, so we cannot compare now with the 2014 final. It's a new game. We'll see what happens and may the best team win!"
Friday 14th December is a competition rest day, with the action resuming in the Kalinga Stadium on Saturday 15th December when the semi-finals take place. England's match against Belgium takes place at 1600 IST (UTC 5.30), with Australia playing Netherlands at 18:30.
The Odisha Hockey Men's World Cup Bhubaneswar 2018 takes place between 28 November and 16 December. The Men's World Cup is played every four years. For all information regarding the Odisha Hockey Men's World Cup Bhubaneswar 2018, including the full schedule, teams, news and more, click here.

Odisha Hockey Men's World Cup Bhubaneswar 2018
Quarter-finals
12 December 2018
Match 5*: Argentina 2, England 3
Odisha Player of the Match: Liam Ansell (ENG)
Match 7*: Australia 3, France 0
Odisha Player of the Match: Aran Zalewski (AUS)
13 December 2018
Match 6*: Germany 1, Belgium 2
Odisha Player of the Match: Arthur Van Doren (BEL)
Match 8:  India 1, Netherlands 2
Odisha Player of the Match: Surender Kumar (IND)