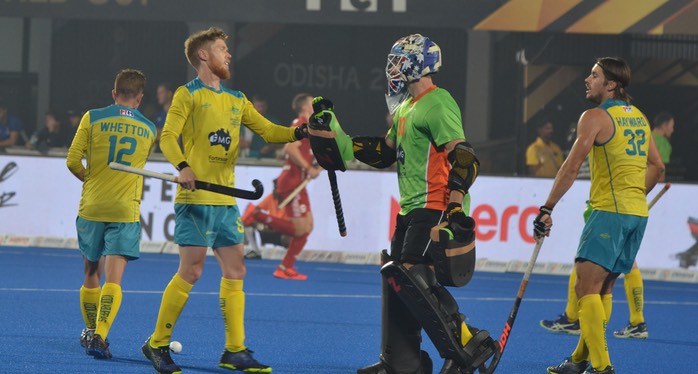 Late goals give Australia 3-0 victory over England on Day Seven in Bhubaneswar

Kookaburras confirmed as Pool B winners with one round of matches to play

17th ranked China remain unbeaten after two games and sit second
Bhubaneswar, India: Reigning world champions Australia made it two wins from two Pool B matches on the seventh day of action at the Odisha Hockey Men's World Cup Bhubaneswar 2018, finishing first in the pool and earning the automatic ticket to the quarter-finals that comes with it.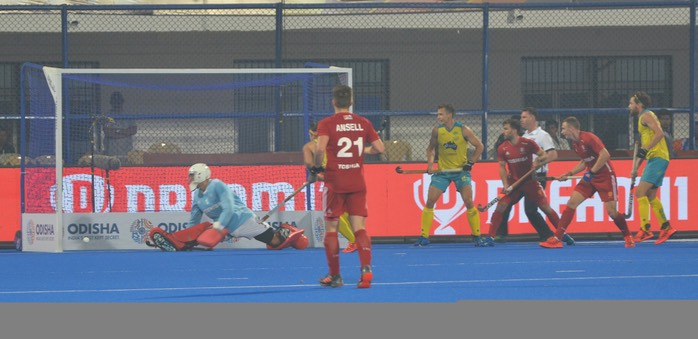 Photos: A Bhurji Sportsmediagroup.com.au
Australia defeated England but were not immediately confirmed as the pool winners, something that was settled by the result of the match that immediately followed. China, the lowest ranked team in the pool, claimed their second successive draw of the competition against Ireland, a result which meant that Australia stayed four points clear of all teams in the pool and therefore uncatchable.
England (FIH Hero World Ranking: 7) and Australia (WR:1) could not be separated in the first two quarters of their Pool B meeting, with both sides having good chances to break the deadlock. The goalkeepers excelled, with England's George Pinner making two fine penalty corner blocks to deny the Kookaburras before Tyler Lovell pulled off a miraculous stick save from Mark Gleghorne's penalty corner drag-flick to deflect the ball over his own crossbar. Australia's Blake Govers and Phil Roper of England also went close; Govers firing just wide of the target with a spin-shot before Roper clipped the outside of the Australia goal after some great build-up play from Liam Ansell.  
Australia were the better team in the third quarter but were thwarted by some solid defensive work from England. However, their resistance was ended by two quick Australian goals in the fourth quarter. Jake Whetton found the bottom left corner of Pinner's goal with a pinpoint accurate slapshot in the 47th minute before Blake Govers smashed home a second three minutes later. A 3-0 score-line was completed four minutes from full time by Corey Weyer, who rattled the backboard with a low backhand effort to give Australia Head Coach Colin Batch his second win from two matches.   
Speaking after the match, goal-scorer Jake Whetton said: "It's nice as I'm playing in a little bit of a different position and the coach is always encouraging me to get into that position at the top of the circle. I've been working on a goal-shot like that for a little while so happy it paid off. It was a tough game - to come away with a win was really good. England are a quality side so we are really happy we are on the six points going into [the] China [match] in a couple of days." 
Like the Australia versus England match, the contest between Ireland (WR:10) and China (WR:17) remained scoreless throughout the first two quarters. The Green Machine had the better of the two periods, showing patience in the build-up but failing to strike that killer blow in the China circle. Shane O'Donoghue went close on two occasions, while Matthew Nelson had arguably the best chance of the half when he fired a backhand effort into the side of the China goal after being forced wide by an opposition defender. 
Ireland continued to pressurise the China goal, with Alan Sothern shaving the post before a dramatic final three minutes of the third period. A yellow card five-minute suspension to Ireland's Jonathan Bell was followed by the opening goal of the match, with China being the beneficiaries. Guo Jin finished off a beautifully worked penalty corner routine with a glorious high finish that went in off the left post to give China a shock 1-0 lead. Incredibly, Ireland – still down to ten players – found the perfect response, with Sothern diving in to touch home Michael Robson's perfect backhand pass from left field.
Shane O'Donoghue had a chance to win it with a late penalty corner drag-flick, but China goalkeeper WANG Caiyu made a fine save to ensure that his team remain unbeaten in Bhubaneswar. Even more remarkably, a win for either England or Ireland in their meeting on 7 December will put China through to the knock-out stages.

The result I am very satisfied with", said China Head Coach Kim Sang Ryul. "We are still unbeaten, but our play is not good enough so I am still not satisfied. Our mentality is that we are still trying to win. We will try to show our abilities against Australia."

Match Day Eight will take place on Wednesday 5 December with two fascinating Pool D encounters. Following their 7-0 thrashing of Malaysia on Match Day Four, the Netherlands (WR:4) bring some excellent form into their 1700 IST (UTC+5.30) meeting with European rivals Germany, a team that produced a disciplined performance to beat Pakistan 1-0 in their opening match. Malaysia (WR:12) and Pakistan (WR:13) meet at 1900, with both teams knowing that a win would massively boost their prospects of moving forward in this competition. 
Germany Head Coach Stefan Kermas, who saw his team defeat Pakistan 1-0 in their opening game, said:  "It will be an interesting one, because winner has the best chance to finish top of the pool. We are happy with the result of our opening game, knowing that our structure and defensive performance was good. We have to improve our offensive skills and dynamic, otherwise we will not be able to attack the Dutch goal with results. The Dutch made a really good job offensively against Malaysia, so we have to put a lot of attention to keeping the sheet as clean as possible."
Summarising his thoughts about his team's match against Pakistan, Malaysia Head Coach Roelant Oltmans said: "Malaysia are keen to show that we're a much better side than we looked like in our first match. We look forward to the game with Pakistan and understand our position. For both teams, this is a must-win game."
The Odisha Hockey Men's World Cup Bhubaneswar 2018 takes place between 28 November and 16 December. The Men's World Cup is played every four years. For all information regarding the Odisha Hockey Men's World Cup Bhubaneswar 2018, including the full schedule, teams, news and more, click here.
Odisha Hockey Men's World Cup Bhubaneswar 2018
Day 7 Results – 4 December 2018: Pool B
England 0, Australia 3
Odisha Player of the Match: Matthew Swann (AUS)
Ireland 1, China 1
Odisha Player of the Match: Alan Sothern (IRL)